"When it comes to bunkering vessels we understand the pressures with berth allocations, timings, crew and demurrage costs."
We are flexible and organize our business to fit around these pressures hence we are known as the solution provider. This has allowed us to develop a significant bunker business across Australia.
We offer bulk pipeline deliveries in many ports around Australia with a specific focus in Darwin, supporting the Oil and Gas industry.
We have a National Sales Manager and site managers available 24/7 to coordinate your bunker
We are the only Australian bunker provider to be accredited to ISO 140001 for the environmentally safe delivery of fuel and lubricants
We supply invoicing on either the day of the bunker or the next working day
A full range of major branded lubricant stocks are available
Darwin: East Arm, Fort Hill, Fisherman's Wharf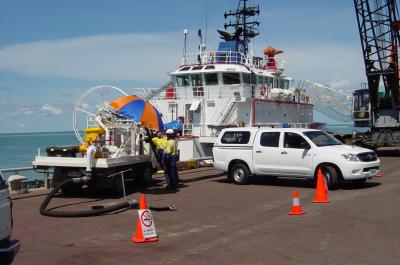 We have two fulltime bunker coordinators based in Darwin and available 24/7
We have our own bunker truck onsite with a backup bunker truck also available
Our bunker truck runs 3" fuel lines increasing loading rates by 30%
Loading rates 95 tonne per hour East Arm
We are the largest supplier of Bunkers in Darwin Harbour and highly competitive on pricing
Fishermans Wharf is designed to supply smaller OSVs and chase boats with 5 dedicated bunker points operational 24/7
We have equipment, staff and procedures in place to bunker vessels at Fort Hill Wharf by truck when required
What sets us apart
Our can do attitude
Our one phone call approach
Our people on the ground
A single point of contact
24 hour availability
Service quality depends upon the quality of a Company's people. Exceptional, Reliable, Efficient, The Best! – Quality of service that equates only to Bailey's Marine.
Wendy Low
Australian Director
Darwin Offshore Logistics Base Pty Ltd
Baileys Marine and ShoreLands Group, have now successfully worked together for many years, with numerous drilling operations and FPSO support vessels, rig tenders and other vessels, serviced efficiently and in a timely manner. We at ShoreLands Group use Baileys Marine and would recommend them highly to other customers.
Arthur Hamilton
Managing Director
ShoreLands Group of Companies