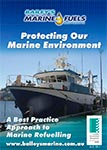 Welcome to the Bailey's Marine Fuels Australia (BMFA) Induction Program, a six part procedure teaching Refuelling Obligations and Guidelines, Management of Spills and Fire Prevention for those wishing to obtain a BMFA refuelling card to use at any BMFA refuelling facility across Australia.
During the Induction Process you will be required to fill our your details and then watch four short video presentations. You will be required to answer four questions after each presentation correctly to move onto the next section. We strongly recommend downloading the free Protecting our Marine Environment PDF Booklet as an important reference manual.
Download the FREE Induction Booklet Now!
Protecting our Marine Environment, click here.  The booklet will be loaded in a separate browser window.
Refuelling Induction
Contact : +61 8 9335 7822